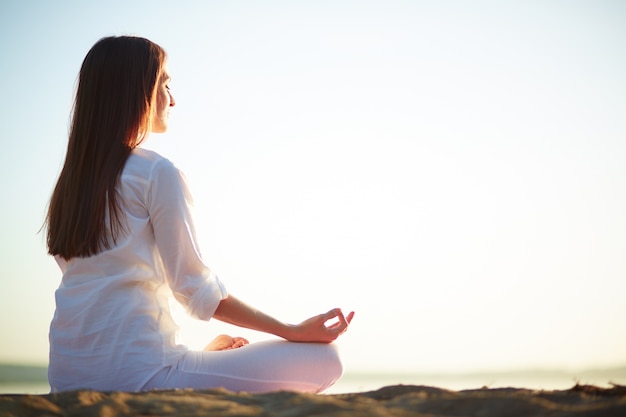 I tried meditating in the sun, pouring through dusty slits of defiance; while I let myself soak in the morning grace of Sunday's profanity. Its bread and blasphemy for breakfast with a little bit of bitter truth, for syrup, you know. I don't know how it's supposed to be, but I close my eyes irritated by the incessant knocking of unmelodious belch that needed to move out from my dormitory. I didn't let it go. I gulped down fresh breath of cheerfulness and rotated my head like a slow song. My eyes fluttered.
Is this how serenity's supposed to be? With angry ringtones in the tip of my throat croaking ugly sonnets throughout the day while I tried to capture as much positivity that the universe's throwing around. Well, I guess today is not my day to earn myself a tan. I once again tie my knot and sit straight with head poised like a statue wondering how long I should be seated like this to embrace solace.
Once, inside the tranquility, I guess… it will ease my tent and let loose the parachute in the wind. I don't know where this is moving me, but I guess it has to reach somewhere the sky is always periwinkle and clouds soft as cotton candy. I ignore the dancing dust particles that look happy with the only attention they get when in the strip of lemon syrup. I blow hard; hard enough to disrupt their slow pacing around like elegant ballerinas. I did not open my eyes. I smiled.
I listen to the slow rotation of the minute needle. Like it's taking a stroll in the greenest garden. I wanted to open my eyes and search for the finish point in which I will get my bag of crayons so that I can set to paint the future in one straight line and add too many colors for happiness. I deliberately ignored black and banished grays. I, also do not need white, since I am all done with stippling freckles in place of where the wetness have left stains. I am all done with jumping from this tense to that sense, since, I can never stay in one place. I seriously need that red dot to focus but all I see are too many happy specks dancing around. Some, even giggling.
I sigh, then open my eyes, slump shoulders, uncross legs, and roll my eyes at the decision of heart to relax. I dared to look up at the waltzing needles and gape wide… it has been only fifteen minutes since I sat down, dwindling in the strong morning rays. So much for peace and optimism. I threw my yoga mat and boosted the rotund fat belly of a black liar and shook my hips to the blazing tunes whilst I let it go in the shower.